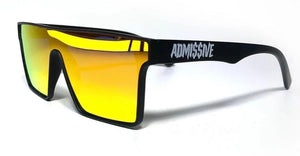 Admissive Eyewear
Some of you might of noticed I have been sneaking some of our new eyewear range up on the site! I am so excited to be expanding into eyewear which has been another Admissive product I have been wanting to do for a very long time and having worked alongside Black flys Australia and studied the eyewear industry while being in involved in it for the past 8 years as a sponsored athlete, Authrorised retailer with Admissive and working within the business/ co running it for a while in recent years and majorly helping them push and grow their business I am now eager to apply that experience to our own range. That being said we will still be stocking some Black flys and I will still be personally running their product as an athlete when they are back up and running properly but I have stepped back from working behind the scenes with them to put my full focus on Admissive.


Maybe we might be able to do a Admissive X Flys colab someday which would be dope! 
I already literally have about 50 styles of sunglasses ready to go into production over time and about 7+ of them are either finished or in production as we speak, All in a heap of different colour ways! It's been exciting re sparking my creative juices and applying it to another section of the brand! I love building brands and new products! 


I will post a few of the styles that have already been released down below. Most have already sold out which I couldn't be more stoked about! All without even posting them up on the page yet! So I am impressed haha. 
Keep your eyes peeled over the coming few weeks as we officially release the entire first range just in time for summer here in Australia! 
Thank you to everyone who supports Admissive I can't thank you guys enough! 


Lejae Surch 
---